The Extra Mile: Wax On Wax Off
The exterior of your vehicle is just as important as your skin — you need to protect it from the elements
July 23 2018, Jenn Lamothe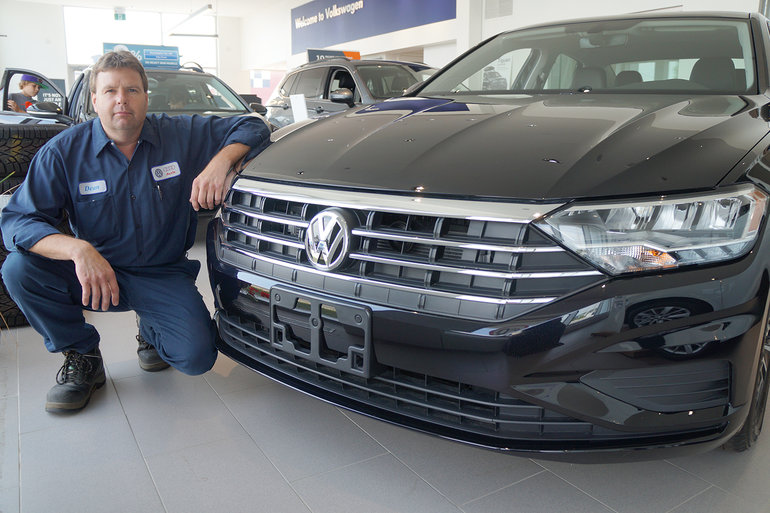 Dean Martin, an automotive detailer at New Sudbury Volkswagen and Audi for 18 years, says waxing is like sunscreen, it will protect your vehicle's paint and stop it from oxidizing.
Jenn Lamothe
For The Sudbury Star
It's finally summer. Time to leave town, head out to camp or on the great Canadian road trip. But while you might be taking things easy, your car is working overtime. If you want to protect your investment, and still have the chance to enjoy all that summer has to offer, then a few tips from New Sudbury Volkswagen and Audi's service technician is exactly what you need.
The best tip? Wax.
"Waxing is kind of like a sunscreen," says Dean Martin, an automotive detailer at New Sudbury Volkswagen and Audi for 18 years. "It will protect the paint, stop it from oxidizing." This is as important to the exterior of your vehicle as it is for your skin — those UV rays can do a great deal of damage.
If you've ever come home from a day on the highway, or walked out to a nice big spot of what Martin refers to politely as "bird droppings," then you know there is a great deal more coming at your vehicle than the sun's rays. And those things are detrimental to the finish, as well as the overall look of the vehicle.
Martin recommends a bath after each trip."Wash it when you come home," he says. "You don't want stuff like that sitting on the paint too long, because it will damage the clear coat — it will burn through the clear coat and eventually you'll have stains — so you want to get that stuff off." With the proper application of wax, and the timely removal of the zoo that is now in your front grill — you'll find the process quick and easy. "You won't need so much elbow grease," says Martin.
How to and when:
In terms of the actual waxing, Martin has a few recommendations. Waxing should occur, at a minimum, once every two months, but once a month is optimal. He advises starting with a clean car, washed well and dried carefully. "Garden hose is fine, but don't use any dish soaps, or any harsh detergents." Automotive-specific soap is recommended. If you're not sure what to buy, New Sudbury Volkswagen sells their favourite product lines.
As far as application, Martin says, "Apply the wax — it doesn't matter circular motions or straight back and forth. Put it on evenly, and then when it comes to a haze, you're then good to go. Depending on humidity, it might take a little bit longer." If the heat is insufferable, try adding wax to one part of the vehicle and then removing it almost immediately — especially if there is a chance you'll be disturbed. It's not just for looks — taking care of the exterior of your vehicle will help retain the value and help you get more when you sell or trade in.
If you are unable to commit this much time and energy into waxing your vehicle, or if you would rather it be completed by an expert while you enjoy the pool, why not let the team at New Sudbury Volkswagen and Audi help you out? Have them take care of your car's finish, and overall value, while you take in the summer.
For more information on performance and safety driving on northern roads,
reach out to our LOCAL PROFESSIONALS at New Sudbury Volkswagen.